Why Does a Pest Control Business Need Digital Marketing Service in Bangladesh?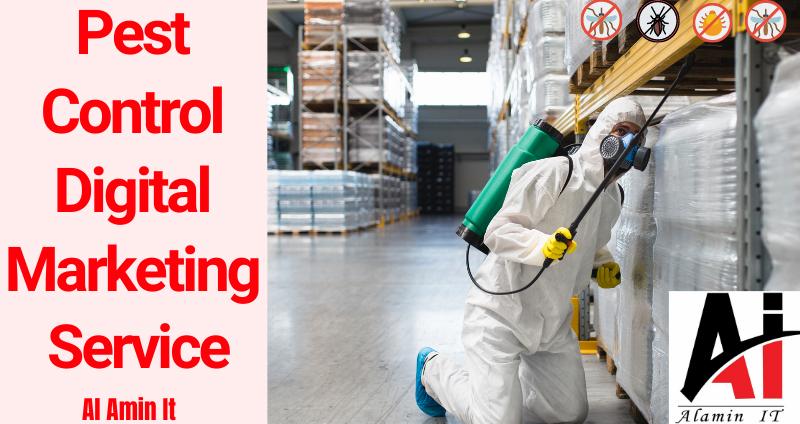 When you search online why does a pest control business need Digital Marketing service in Bangladesh that means you are already running a pest control business. You need to know how Digital Marketing can help Pest Control Businesses grow.
Marketing is a vital part of any business. Over 97% of people nowadays turn to the internet, which means the marketing system is also turning to online services. The Internet age has enabled 97% of people to search Google for all their daily necessities. Connecting with your prospects is possible with Google.
Is it actually possible for a service like Pest Control Business to grow online through Digital Marketing? the reply is yes!
What is Pest Control Marketing? 
If you are a small business owner in the pest control industry, you've no doubt be relying on your pest control company's marketing to bring in new customers.
 But while you may have seen some results from traditional forms of marketing, such as radio, TV, and print advertisements, you're probably looking for an even better way to reach your target audience.
Digital marketing is a great way to reach a large audience with limited resources and still get the results you want. It allows you to target potential customers in a way that traditional marketing can't, and allows you to collect information about the people who interact with your advertisements. 
Pest Control Business Need Digital Marketing Solutions.
Why Does a Pest Control Business Need Digital Marketing Service in Bangladesh?
Some people would consider pest control to be an ordinary and simple business. After all, the majority of people would think of it as a service that is provided in a physical location, such as a pest control company. However, a pest control business is far from being ordinary. It is a multibillion-dollar industry that is consistently growing, and it is one of the most competitive businesses in the world.
There are many pest control businesses in Bangladesh. Most of them are small, family-owned businesses. They are often the only source of pest control services in their neighborhoods, and they rely on word of mouth and occasional newspaper ads to reach customers. Most of the time, this is enough to keep their business afloat. Most of the time, it's not enough to hold their business.
Pest control businesses rely on effective pest control to keep their customers safe and their properties clean. But without digital marketing, pest control businesses are unable to reach their customers and generate new business. In addition to traditional marketing like print materials and advertising, digital marketing services such as Google AdWords and Facebook Ads can help pest control businesses reach their target audience. This allows them to continue offering the best pest control services in the industry and generate new business. 
How to Facebook Marketing help pest control business grow?
When it comes to pest control Business in Bangladesh, there's no denying that you need to have a strong online presence. It's the best way to reach potential customers and generate new business. But the problem is, that many pest control businesses don't know where to start when it comes to Facebook marketing. They don't know which ad formats to use, or how to optimize their posts for maximum impact.
As a pest control business, Facebook is one of the most important channels to reach your customers and build your brand. It's also an effective way to generate leads, which is why it's important to use Facebook as part of a comprehensive 
social media marketing
 strategy. However, if you've never used Facebook marketing services before, you may be unsure of what to expect. 
Your pest control business is getting the word out about its services, but you're still not getting the foot traffic you want to keep your customers happy. Facebook Marketing can help your pest control business get the attention it deserves, and generate new customers. 
Growing a pest control business can be challenging, especially in a competitive industry. Facebook has the power to help your business reach new customers and gain the attention of current ones, but only if you use it correctly.  
Facebook Marketing is a powerful tool for business growth. It can help your pest control business generate new leads and expand your customer base. Introduction to Facebook Marketing   Facebook Marketing is a series of strategies and campaigns that use the
Facebook
 Platform to drive targeted traffic, generate leads, and build brand awareness.
Do You Need to Hire a Digital Marketing Agency for Pest Control Digital Marketing?
As a pest controller, you have launched a successful and profitable business. You also have a great marketing plan behind you. Digital Marketing or Internet marketing system is a fully different process. In online marketing, 
digital marketing
 and 
social media marketing
 play an essential role to grow your business. 
If you want to grow your business online through Digital Marketing then you must hire a Digital Marketing service provider. It's not a simple process that you can grab just by searching on google. You need to find a skilled and Best Digital Marketing Agency to get the right results.
Why hire us as Pest Control Online Marketing Service Agency in Bangladesh?
If you want to Digital Marketing your business by a professional in the best way then Al Amin It is the agency for Pest Control online marketing Service. If you search, you will find out many Digital Marketing service providers, but how do you know we are the best for Pest Control online Marketing? That's why here is some information that will help you feel why Al Amin It is the best pest control Online Marketing service agency.
Our Experience
Skills in any field are the main consideration. Without any skill, you will not find good results in any endeavor. We are very skilled in this work. Al Amin It is the Best Digital Marketing Agency in Bangladesh with a 
google 
certified expert team. We have been working in this field for a long time. 
We are also providing Best Digital Marketing Service in Bangladesh through Al Amin It.
At last…
Pest Control Business Need Digital Marketing?
Digital Marketing becomes important when you want to see your business online at the top. Your target is to deliver your service to your customers. Finding your buyer. If it's digital, it's better. Connect with
Al Amin It
to reach out to your customers in the Digital Marketing segment. 
Since you want to promote your business online or digitally, you need to use digital media in the right way. But, just because you are successful in your business does not mean that you are the best digital marketing expert. Building yourself as a digital marketing expert is not easy. So you need a good digital marketing company. If you are looking for a good digital marketing agency-           
contact us now.
 FAQ-: 
How do you promote a pest control business?
– As a pest control business owner, one of the most important aspects of your business is marketing. Without a good marketing strategy, your business will not be able to reach the maximum amount of potential customers and will not be able to generate revenue. One of the most important aspects of a good marketing strategy is promoting your pest control services.
Do small local businesses need digital marketing?
– 
The days of traditional advertising are numbered. Businesses need to adjust their marketing strategies to include digital marketing to reach the most customers, but many don't know how to start. This article will discuss how digital marketing works, which local businesses need it most, and which strategies will yield the best results.
Your small business might not have the budget or manpower to dedicate to digital marketing. But the truth is that without it, you'll never reach your full potential. Your digital presence isn't just about getting people into your physical space. It's also about getting them to your website, contacting you, and then ultimately spending money in your store.
Does digital marketing works for all businesses?
– 
Digital marketing can work for any business—regardless of the size or the niche. Digital marketing is used to understand the consumer's needs and create valuable and relatable content for them.
Which internet marketing services are best for my pest control company?
– Al Amin It provides the best digital marketing services. Our highly experienced digital marketing experts put forth a promising work endurance while committing to providing the Best Digital Marketing Services in Bangladesh.
Why invest in digital marketing for pest control?
-Digital Marketing can help to grow your business online and help you to generate more leads. 
It's also about getting them to your website, contacting you, and then ultimately spending money in your store.
Tags-:
pest control marketing company, pest control companies, pest control marketing strategies,  Pest control business marketing, pest control online marketing services, pest control marketing agency, pest control marketing agency.